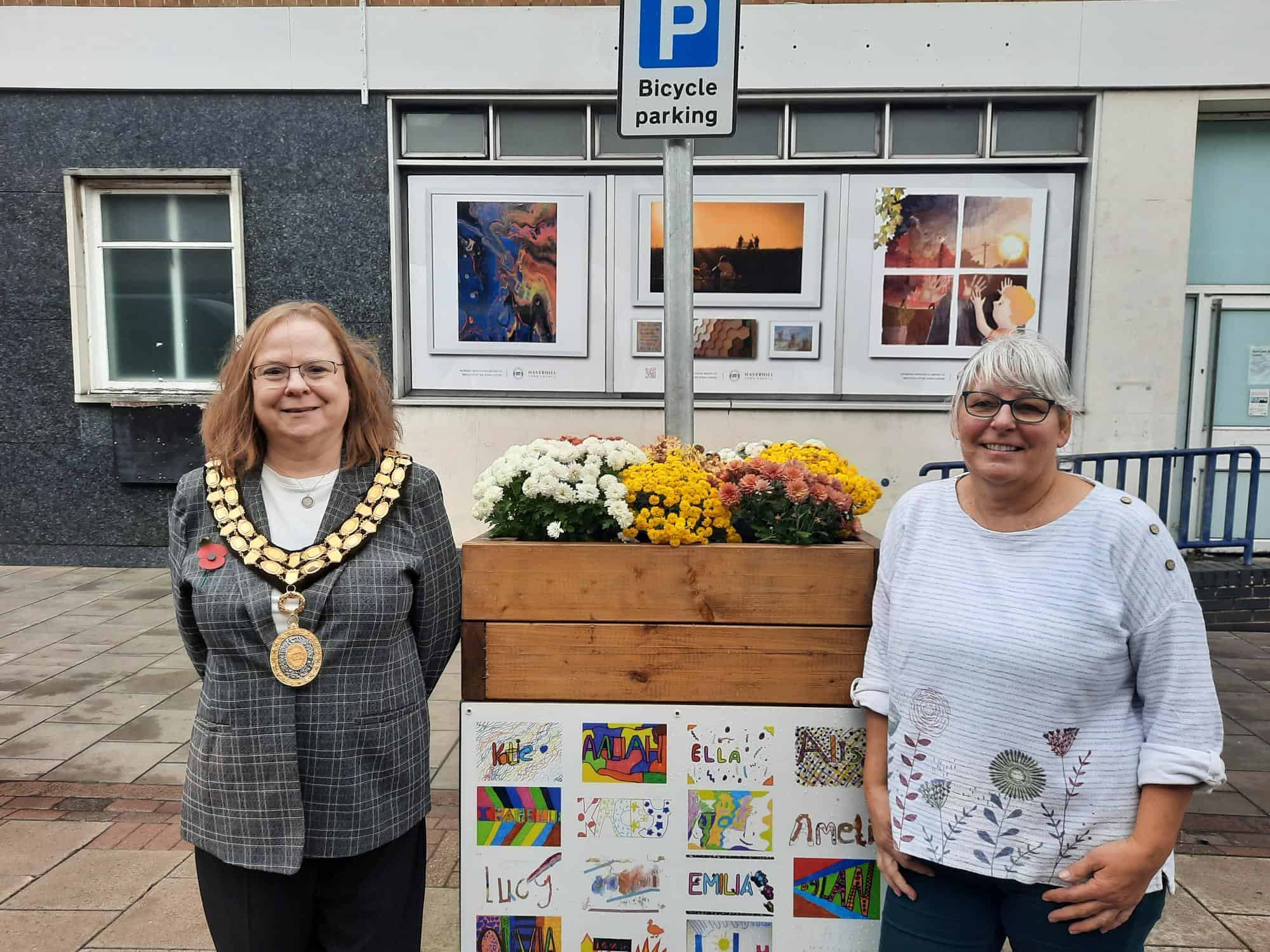 Over 250 local children have contributed their creativity to the latest piece of public art in Haverhill High Street. The My Name Is project, run by Haverhill Town Council, asked youngsters to draw and decorate their name in any way they wanted. The children came up with their creations at workshops run by Snobby Eddy Crafts and The Fabric Seagull, that took place in the town centre over the Summer. Year 7 students from Castle Manor Academy also joined in. All their designs were incorporated into a collage and printed on metal sheets,  courtesy of Stylize Print of Hollands Road. The final stage of the project was fixing the metal plans to the planters and bike racks that are located on both the High Street and on Jubilee Walk at the Bus Stop.
Debby Dyson from Snobby Eddy Crafts said.
'Dawn and I had great fun with all the kids, they chose to add glitter, sequins, washi tape and more and they really let their imaginations go. The time and dedication they devoted to decorating their name was lovely to see'
Liz Smith, The Mayor of Haverhill said
'Thank you to Snobby Eddy Crafts, The Fabric Seagull and Becky Baldwin from Castle Manor Academy. Together they've once again proven what fabulous community spirit we have in Haverhill – and the end result is testament to how talented our children are!'
Vivi aged 9 was one of those who took part in the project. She explained her reaction on seeing her art-work in place.
'I was really excited for it to be up. I chose to draw a flower and a rainbow because those are things that make me happy and I think they might make other people happy too.'
Sara Marsh from Haverhill Town Council said
The idea was to brighten up our public spaces and involve as many children as possible. Every child that took part had their work included and now over 250 can lay claim to be rocking their personal style in the town centre.