Poppy Wreath Installation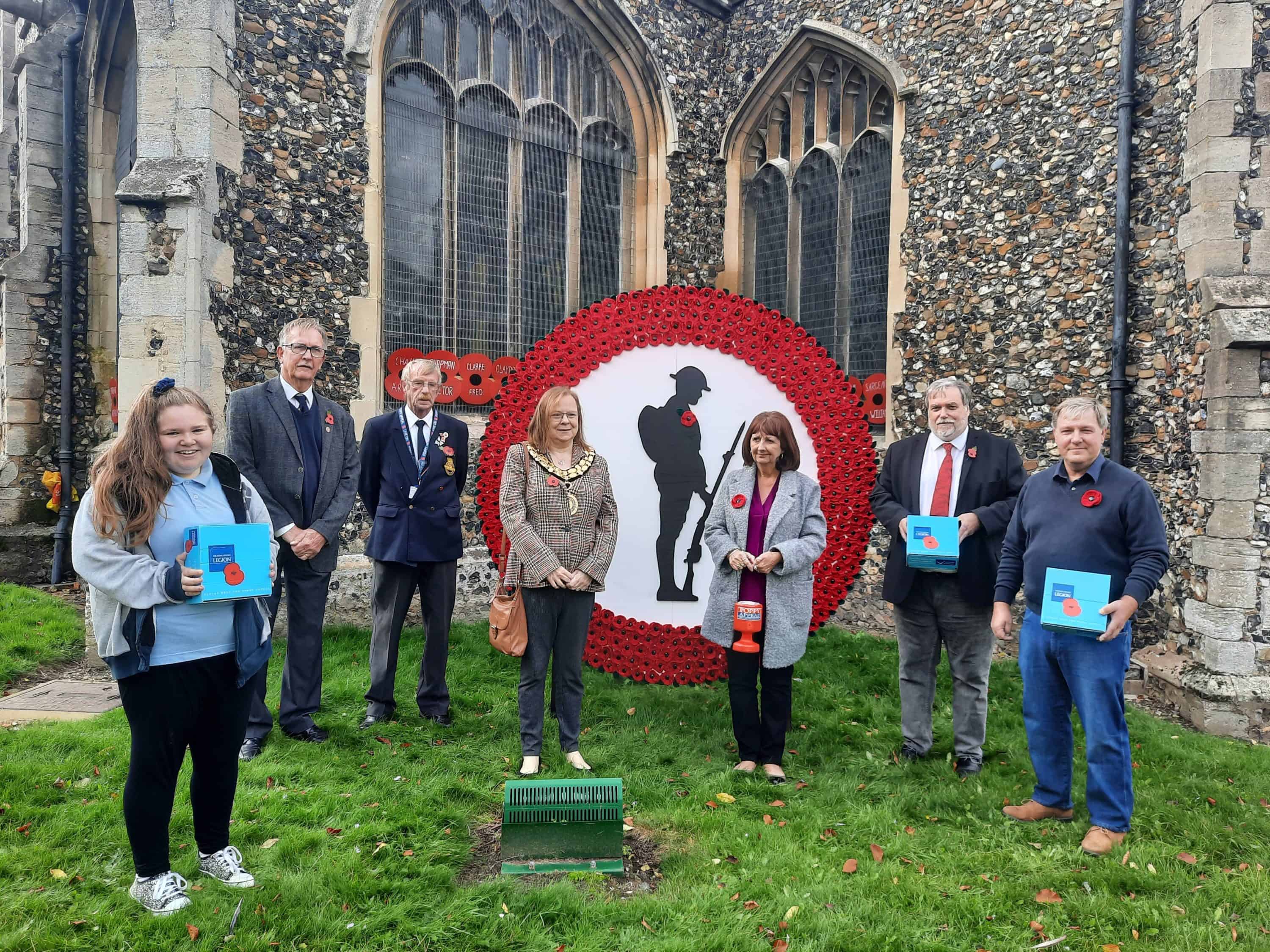 Two local businesses have joined forces to create a unique piece of artwork to mark the start of this year's Poppy Appeal. Sue Vallis from The Craft Basket and Dave Ellis from Ellis Interiors on Queen Square have been very hard at work over the last month to produce a two-metre wooden wreath decorated with crocheted poppies and a silhouette of the Last Soldier. It has been installed in the St Mary's Churchyard facing the High Street.
Sue explained
'When the town council approached me about doing something for Remembrance Day I thought I'd like to get involved because my Grandad was killed in Burma and it'd be nice to make a contribution that might help raise funds for the Royal British Legion Poppy appeal.'
Sue described how over 400 poppies were used to complete the wreath and each one took approximately 12 minutes to make. For a number of days her dining room table was completely out of action as she fixed the poppies to the wreath shape.
'If anyone would like to make a donation for crocheted poppy they are available from The Craft Basket in Queen Square'
'Thank you very much to the ladies who gave me a helping hand'
Dave Ellis from Ellis Interiors volunteered to help Sue out with the construction of the wreath and together they planned the project so it could be installed in plenty of time for Remembrance Day on Sunday 14 November. Rather than a dining room table it was Dave's driveway that acted as a temporary workstation.
'My Grandfather wasn't killed, but returned home from The Somme seriously injured during the WW1 and was a lucky survivor, and so the poppy appeal means a lot to me. I hope the people of Haverhill will appreciate our efforts and it will encourage them to donate.'
Haverhill Mayor, Liz Smith added her note of thanks
'I would personally like to thank Sue and Dave for the lovely display they have created as well as offering a big thank you on behalf of the Haverhill Community. It is kind gestures such as these that make me proud to be the Mayor of Haverhill.'
' I look forward to seeing as many residents as possible turn out for the parade on Sunday 14 November. It will be led by the Pheonix Marching Band leaving from Haverhill Arts Centre at 10.15am and finishing at Haverhill Cemetery on Withersfield Road.
Bryan Mills and Alan Bumpstead from the Royal British Legion also decorated St Mary's Church by recycling the giant poppy display that was used in previous years. Each poppy, displayed across the bottom of the church windows, has the name of a local soldier who lost their lives in conflict. Bryan added his heartfelt thanks to Dave and Sue and to the people of Haverhill who always donate so generously to the poppy appeal. If anyone would like to volunteer to help with the collections this year please contact Haverhill Poppy Appeal Co-ordinator Barry Bishop on 07790380195